Royal Mail faces legal challenge over plan to recruit 30,000 temp staff
Union calls huge postal recruitment drive to cover for striking staff 'stupid' and warns move could be illegal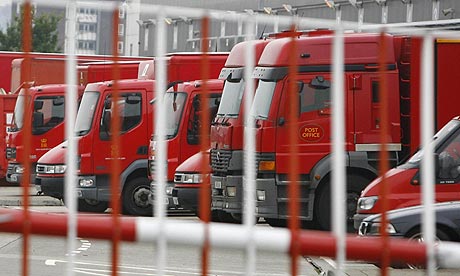 Union leaders today condemned Royal Mail's plans to recruit an extra 30,000 temporary staff to combat a postal strike beginning this week and warned that the move would face a legal challenge.
Billy Hayes, leader of the Communication Workers Union (CWU), which has called national strikes for Thursday and Friday, described Royal Mail's announcement of the biggest recruitment drive in its history "to help keep the mail moving" as symptomatic of a divisive management culture.
"I think it's a stupid move, more than anything else. It's something that's not going to help resolve the dispute. It's going to inflame things," he told the BBC's Andrew Marr Show.
As householders and businesses braced themselves for massive disruption, the business secretary, Lord Mandelson, said he was "beyond anger" with the union for obstructing change and modernisation.
"This is a matter of life and death for the future of the Royal Mail," Mandelson told the Observer. "This national strike will drive away yet further customers and further business, possibly never to return to the Royal Mail."
However, CWU sources suggested the hiring tactic could be illegal. The leader of the GMB union, Paul Kenny, was more explicit, calling it "beyond belief".
"There are strict laws that forbid employers and employment agencies using agency staff to break a lawful dispute and it is the job of Lord Mandelson's department to enforce those laws," he said.
"Those who run employment agencies need to be aware that they personally will be liable for a fine of £5,000 per person, per day for every worker they supply to Royal Mail during a trade dispute."
The company normally employs an additional 15,000 staff in the run-up to Christmas. But it said that it had decided to double that number "to help offset the impact on customers of the CWU's unjustified and irresponsible strikes".
Those employed on temporary contracts were not being brought in "to do our postmen's work when they are out on strike, but to make sure that we have people to help clear any backlogs between strikes, as well as to help, as happens every year, with the seasonal build-up of mail in the run-up to Christmas," the company said. It added that the move was "fully in line with all employment law".
Talks will be held between the two sides tomorrow, but there is little sign of the strikes being called off.
Hayes – who declined to openly call the temporary staff strikebreakers – said his union recognised the likelihood of further job losses in the industry but was seeking assistance from a third party such as the industrial mediation service Acas to discuss issues such as increased workloads and the bullying of postal staff.
Royal Mail's decision to hire extra temporary staff was typical of a management which was "almost a dictatorship" and was not actively seeking a solution, he said.
"We don't welcome this disruption. But we have to do something when Royal Mail seems to be incapable of reaching an agreement with the union ... They rule everything out and they blame everyone but themselves," he said.
Fears are now growing that the strikes could unleash some of the worst industrial strife since the miners' strike of 1984-85 with the focus being on possible violence at picket lines.
The Association of Chief Police Officers (Acpo) said it was closely monitoring the situation and had issued guidance to forces on dealing with large-scale strike action. Each police force is assessing and reviewing the implications for public disorder that might arise from industrial action. An Acpo spokesman said: "It is important that we keep the public safe as well as always preserving the right to protest."
On Thursday, CWU workers at mail distribution centres across the country will come out on strike. Royal Mail insists there will still be collections and deliveries. On Friday, however, those who actually collect letters and parcels from postboxes and deliver them will strike, meaning there were will be no service to households and businesses across much of the country. Royal Mail is also suspending its "next-day delivery" guarantee, under which customers pay extra to ensure letters and parcels arrive before 1pm on the next working day.
Royal Mail group chief executive Adam Crozier said: "We are continuing to urge the union to halt its appalling and unjustified attack on customers. At the same time, we are absolutely determined to do everything we can to minimise delays to customers' mail.
"Every year, Royal Mail recruits thousands of additional, fully vetted, temporary staff as part of the operation that successfully delivers the Christmas mail. This year we'll have twice as many people on board, and we'll have them in place much earlier in the autumn."