Dust storms spread deadly diseases worldwide
Dust storms like the one that plagued Sydney are blowing bacteria to all corners of the globe, with viruses that will attack the human body. Yet these scourges can also help mitigate climate change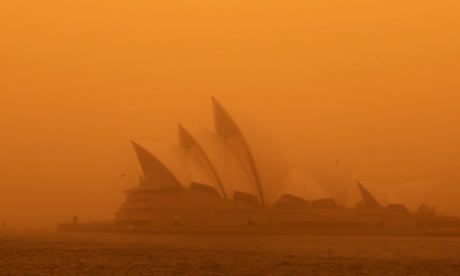 Huge dust storms, like the ones that blanketed Sydney twice last week, hit Queensland yesterday and turned the air red across much of eastern Australia, are spreading lethal epidemics around the world. However, they can also absorb climate change emissions, say researchers studying the little understood but growing phenomenon.
The Sydney storm, which left millions of people choking on some of the worst air pollution in 70 years, was a consequence of the 10-year drought that has turned parts of Australia's interior into a giant dust bowl, providing perfect conditions for high winds to whip loose soil into the air and carry it thousands of miles across the continent.
continue reading..............